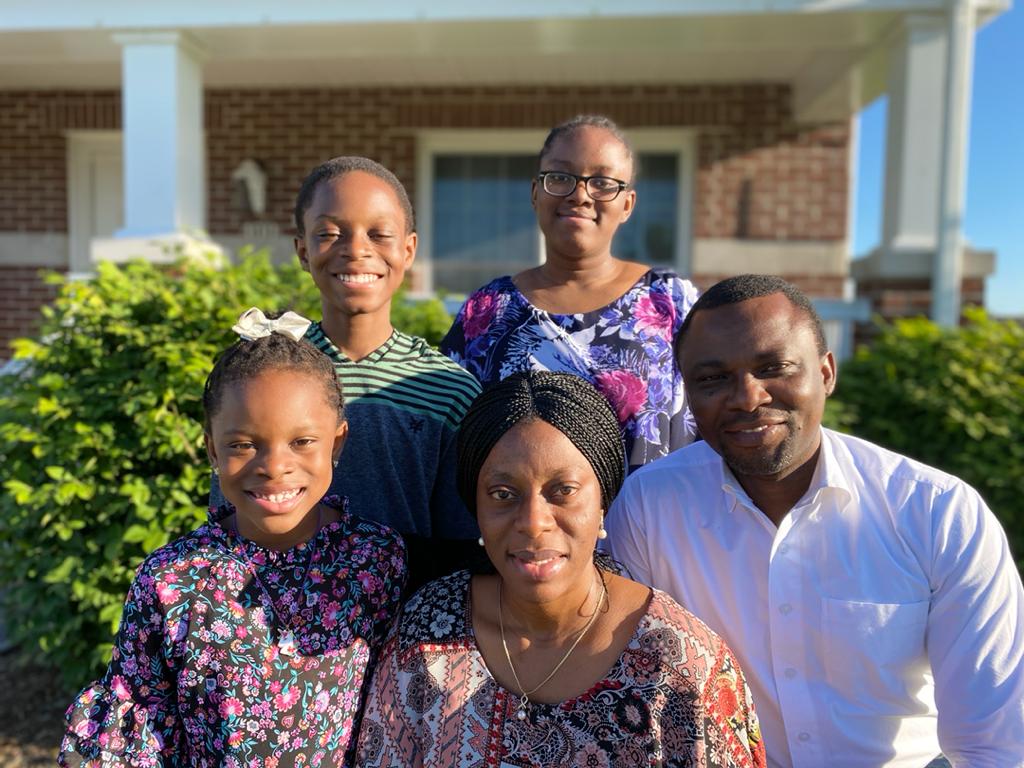 Rev. Samuel Odubena
Senior Pastor
Samuel Ayotola Odubena was born on Thursday, November 2, 1972 into a Christian family in Sagamu, Ogun State, in Southwest, Nigeria. He experientially came to know Jesus Christ as His personal Savior and Lord in 1989. Samuel wanted to become a lawyer but God called him into full-time ordained ministry. Having brilliantly gone through Ordination training from 1993 to 1996, he was ordained in 1996 in the Anglican Communion Church of Nigeria. He rose through the pastoral hierarchy and was preferred a Venerable Archdeacon in October 2012. This administrative position made Samuel to oversee a district of fourteen churches and twenty-two pastors.  Over the last twenty-four years, Samuel has either served as a senior pastor or an assisting pastor in nine churches, including Chapel of Grace Government House Grounds, Akure, Nigeria where he pastored and provided spiritual guidance to two governors, and St. Andrew's Church, Versailles, Kentucky where he served voluntarily for five years.
Providentially, Samuel has had a long-time link and relationship with the Methodist Church Nigeria. He attended Methodist Comprehensive College, Sagamu, Nigeria for his middle and high school educations, during which time he and other students worshipped in the Methodist Church. He also trained at Immanuel College of Theology—a seminary co-owned by Methodist and Anglican denominations.  From 2007 to 2012, Samuel also served as the Ondo State chairman of the Christian Council of Nigeria (CCN) where he headed the league of churches such as Methodist, Anglican, Baptist, African Church, Church of the Lord, and Salvation Army.
In the course of life, this amiable man trained in West Africa Theological Seminary, Lagos State, Nigeria where he bagged his Bachelor of Arts degree in Theology with First Class and a Master's degree in Biblical Studies (1998-2002). In 2002, he got a scholarship to study abroad for a doctoral degree, but due to circumstances beyond his control, he had to forego both the admission and scholarship. In a quest for more knowledge, he bagged a Post Graduate Diploma in Religious Studies from Ekiti State University in Nigeria in 2006.  On May 20, 2020, he had a successful Ph.D. dissertation defense in Intercultural Studies (with a concentration in Evangelization) at Asbury Theological Seminary, Kentucky.
Samuel exercises his ministry with a deep sense of Christian faith, commitment, and dedication. His love for the Lord and zeal for His Great Commission was unmistakable. He has been an admirable preacher, teacher, shepherd, evangelist, and prophet. His performance in the area of conduct of worship and spiritual revival has been outstanding. He has an overwhelming passion for the oppressed souls, discipleship, mobilization, church-community relationship, intercession, and prayer for both churched and unchurched which have blessed many people. By divine providence, he has authored three books—Know the Holy Spirit: 101 Q & A on His Person and Ministry, Fasting Made Easy: Do It Right Get Results, and Password: A Scriptural Guide to Victorious Living.
Samuel Odubena got married to Christianah Abimbola (nee Akinyemi) on April 24, 2004.  Christianah is a graduate of accounting. As a civil servant, she worked with Ondo State government for eighteen years and rose to the level of a senior executive officer (Accounting) prior to the family's relocation to the United States in 2015. Christianah is a true Christian wife and mother. She enjoys interceding and encouraging people. Christianah is currently a Master's degree student at the University of Kentucky where she studies Public Financial Management (online). The duo is blessed with three graceful children: Favour Toluwanimi, Samuel Tobiloba, and Peace Temiloluwa. Favour is 14 years old (going to 10th grade), Tobi is 12 years old (going to 7th grade), and Peace is 7 years old (going to 2nd grade).
When Samuel is not making house calls, writing sermons, discipling, or visiting people, he enjoys playing with his family/friends and watching Family Feud.  When Christianah is not studying or listening to informative programs, she enjoys worship songs and cooking. When Favour is not reading the bible or doing schoolwork, she enjoys painting, drawing, and listening to music. When Tobi is not reading or doing Khan Academy, he loves playing soccer and drawing. When Peace is not playing drama with her toys or watching barbie, she enjoys ballet, dancing, and riding her bike.
The aspiration of the Odubenas is to be true and humble representatives of Christ, and exemplary example for other Christians in words and deeds. They believe God has called them to do ministry in Main Street UMC, Peru, IN, and the community at this time.
Send Rev. Lauren Hall a Message